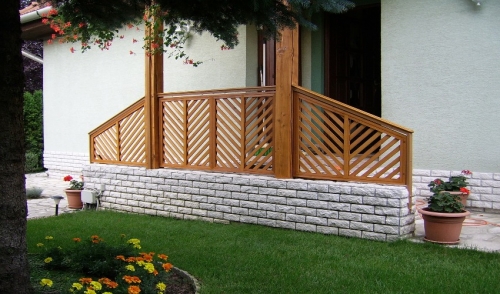 Nearly all homes have at least two entrances. The front door and the back door. Front doors can be beautiful --in many cases a focal point for your home. They are the epitome of form. Backdoors, however, represent the way the homeowners live. They are all about function. In the movies, David Spade's Joe Dirt had the right philosophy: "business in the front, party in the back". Unfortunately for him, he was just talking about his mullet haircut. For the home, however, the sentiment works beautifully. Below, we'll discuss some different ways your backdoor can better fit your lifestyle.
Since the back of your house is often a private space, there is less need to conceal the interior view of the home from neighbors or passerby's. This of course opens up a variety of possibilities. French or sliding glass doors are favorites. In the past, constant exposure to sunlight has been known to cause fading on interior carpeting and furniture. But now, the use of low-E glass or even built-in blinds (for convenient, easy cleaning) can make sun fade a non-issue. If space is limited on the interior the home, sliding pocket doors can be a perfect solution.
Most importantly, the backdoor should reflect the way you use your backyard. For instance, homes with children (especially in areas exposed to winter weather) or gardens can incorporate a mud room with the backdoor entrance as a way to buffer the sloppier side of Mother Nature, with the interior of the home. A durable, easy to clean floor and plenty of hooks and racks for hanging coats, etc. can also be included.
For homes with pets or small children, Dutch doors (also known as stable doors) are perfect way to let the fresh air and sun in while limiting access --either in or out. Dutch doors are divided horizontally so that the bottom half remains shut and the top half can be opened.
Opening up the backdoor entrance doesn't mean you have to compromise energy efficiency, either.  In addition to low-E glass as mentioned above, dual-paned windows and sliding doors are more and more efficient at keeping the heat inside, while letting the sun warm your home's interior.  For the summer months, installing a retractable awning outside can keep the direct sun from creating excess heat, as well. Of course, with any backdoor install, remember to incorporate screens into the plan.